SUITES + Additional luxury rooms available direct inquiry to
stay@antria.co.nz 
Antria's two Luxury Suites are tiled to keep you cool during Marlborough's balmy nights and the underfloor heating will warm you in the cooler months. EnSite facilities comprise of double walk-in showers complete with Italian fittings. Both suites include imported curtain treatments, local handmade soaps and hair treatments, robes and electric blankets. Metre thick concrete walls allow for the quietest nights sleep. Both suites have French doors which open onto the large timber covered courtyard verandas. Sit and enjoy a glass of Marlborough Sauvignon Blanc and watch the sun go down.
Pool View – Antipodes Suite
Beautifully appointed, overlooking the pool area and garden. It has a large, tiled ensuite with dual basins and double walk-in shower. A bed can be added to increase the number of guests to 3. It has 1 bed (Twin or Super King). Antipodes overlooks the Pool and courtyard.
Vineyard View – Pacifica Suite
The Pacifica Suite overlooks the garden and Vineyard. The room has an en-suite bathroom with a double walk-in shower and a single basin and can sleep a total of 2 guests. It has 1 bed (King).
Garden View Room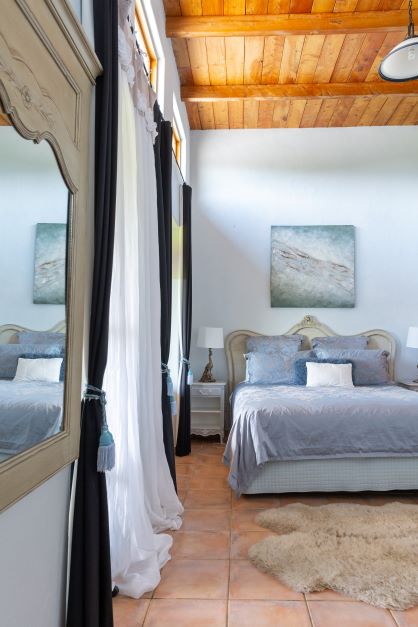 Small Garden View Room